Meer's Wish List
- Hex Log - Trade List - Wish List -
These are my most wanted petz.  Petz I have been searching the ends of the earth for for years.  The hexed petz on this list are very old, and I know it is very unlikely I will ever get these petz, but I have to try.  Update:  I have added a few newer petz as well.  But I am just as unlikely to get those as the older ones.
I can offer anything at all for any of these petz.  I will hex any custom pet you want, using all my hexing powers to create something for you.  I can offer anything at all from my Hex Log that I have hexed (except for the unique petz that I hexed for someone else, as I promised they would remain unique, but any other pet, including retired petz and those I hexed for myself!)  And I can customize things any way you want, not just the normal eye color and other options I normally customize.  I also offer any of my MPA petz that I have recently set up, and I otherwise am not accepting trades for them.  You can see my MPA List here.  I will also offer multiple petz for one, either hexed or MPA or a combanation there of.  If there is anything else you think I can do for you in return for these petz then please let me know!  For example I have some modest HTML/CSS and graphic editing skills, I could make you a custom layout for your site.  Have any other ideas?  Just ask me!  :D
If you have one of these petz for adoption or trade please any time!  :)  Thank you!
Most of these pics don't belong to me.  I've just borrowed them and stuck them here so I don't steal bandwidth.  Please don't eat me for snatching pics.  If you don't want me to use your pic just let me know and I'll take it off.
Generalities
  ♦   I can accept petz from any game version.
  ♦   I prefer bred petz that are not tree trimmed, but I know that's nearly impossible to avoid these days, so don't really worry about it.
  ♦   I don't care about file size or inbreeding.
  ♦   If a hexie needs extra textures, I'd prefer they work in P5.
Hexed Petz
Sketchi Entropy Dane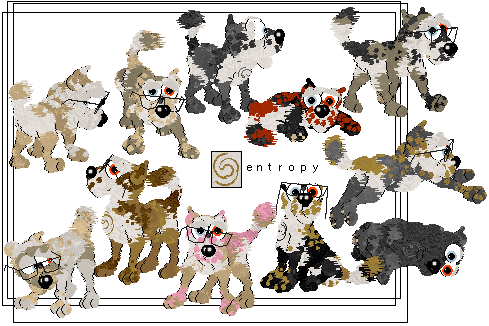 **My Most Wanted Pet!** I would give ANYTHING for one of these amazing Sketchi danes.  That swirl on their chest and their paintability is too awesome.  Plus the word Entropy is just very cool, although the concept is scary, I like that sort of thing.
Jena Grunge Cali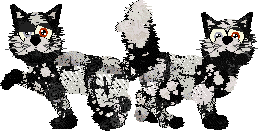 Grunge!  My favorite thing, and it's on a cat!  Of course I want one of these.
Tiffany Dane like Splash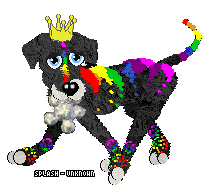 I'd love any color, but my favorite would be 214 with 207/205 and/or some other colors that go with 214, or 5 and greyscale, or rainbow.  But yeah I know that's never gonna happen.
ButterflyChaser Lizardish Dragon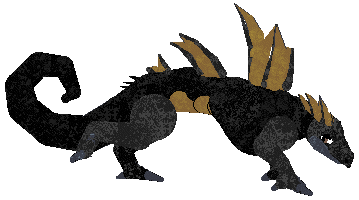 I love dragons, you can never have too many dragons.  I love the way this one looks, ButterflyChaser is such a great hexer, I love the style.
Sketchi Dragonling Dane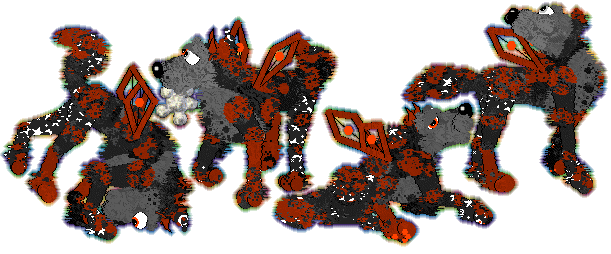 These wings are so unique!  Just amazing looking.  Looks kinda insect like but not, more fantasy like.  It's like nothing else.  The bright colors are unusual but somehow work great with the unusual textures.
Sketchi winged like Luchien Dane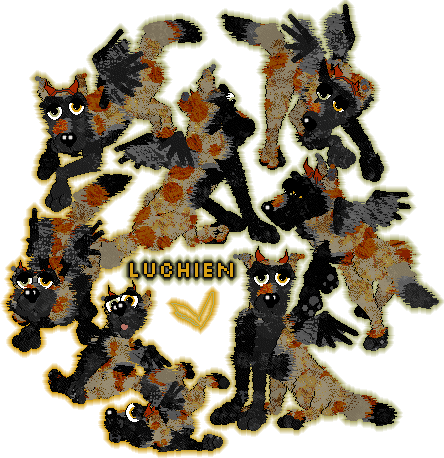 Sketchi is the queen of weird textures!  These danes rock!  I think me and Sketchi were in the middle of a trade for one of these but it got interrupted somehow and never finished.
Jewellz Friesian Mod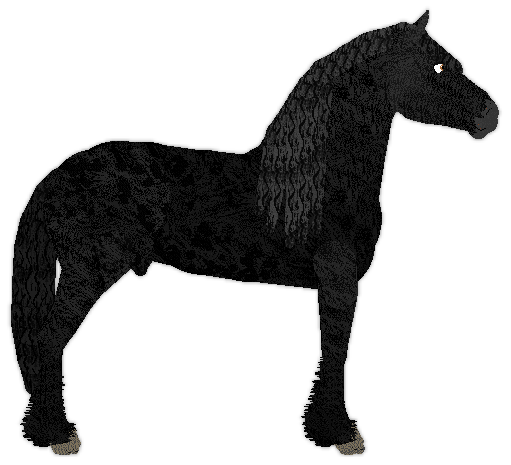 I have been looking for a Friesian breed mod of Manda's horse for as long as it's existed.  Jewellz on the Seeing Stars forum made the perfect one!  It's exactly what I imagined with the perfect leg feathering and the perfect texture for the mane and tail!  I don't know if Jewellz would ever give this file out, but if so I would do anything to get it!  Or if not the file, then at least a horse from the file!
Sexpot Lida's Aeron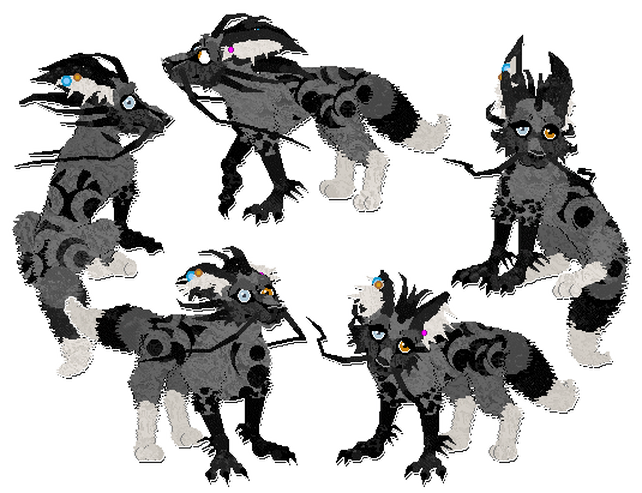 I know I will never have this, but it is just so amazing!  ;_;  I can't help it, I want it badly and would do anything to get one.  It's just too cool for words!
Kimberly Hippogriff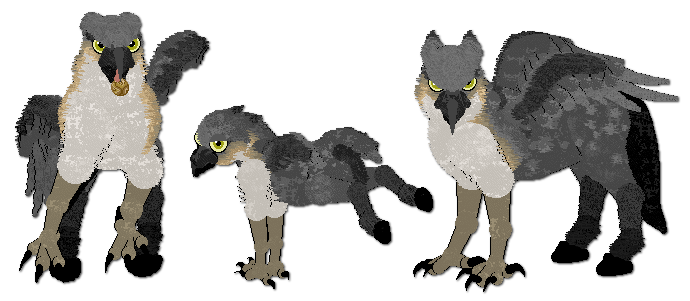 I died when I saw this file, I just died!  Gryphons and hippogriffs (and any other type of gryphs/griffs) are my ultimate obsession!  And this one, (which I believe is based on Buckbeak from Harry Potter, is that right?) is just the best I have ever seen and I can't believe how amazing it looks!  I'm just. . . I'm dead!
Amanda Jumping Spider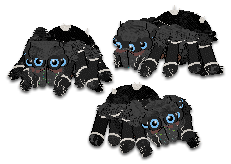 OMG this is such an amazingly hexed spider!  And I love spiders, particularly jumping spiders, they are just adorable.  I so want a giant jumping spider in my game!
Moon in a Jar Anteater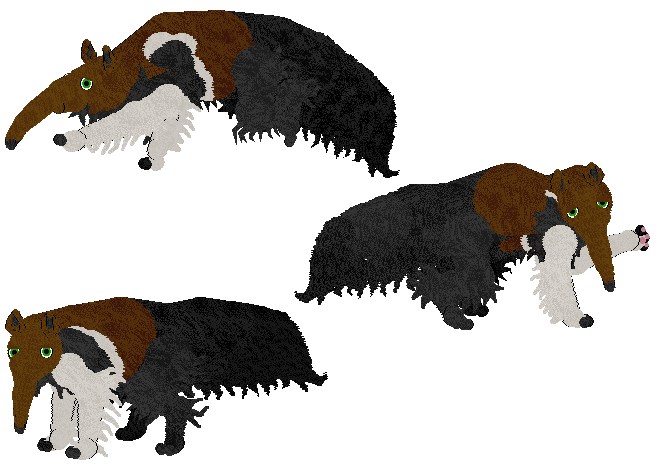 I love anteaters!  I love how weird they are!  So when I saw a hexed one that looked so good I wanted it so badly!
Bred Petz
I would like these to be completely natural if possible.
Poodle Ear Dane


Dane mixie like above:  full dane body, with poodle ears, sheepie feet, sheepie tail, and sheepie markings.  (mutt patches, dali spots, hair3, and/or one self ear is a plus)  Any base color.  (If it's tail tip looks like the one pictured, I will sell you my soul for it!)
Chi Eared Dali Mixie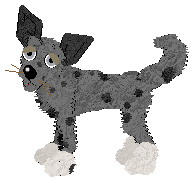 A mixie just like above, except with a dane belly, not a dali belly.  So I'm looking for: dane body, dali legs, sheepie feet, dali face, chi whiskers, and chi ears.  Dali spots, mutt patches, white feet, and/or one selfie ear would be a huge plus.  Any base color.
Wishes Granted
Angler Fish
I saved up my gems and got one when PUGS reopened!  :D
Thank you MidnightWolf!!
Patchwork Marked Alley Mix
I found one in Salem @ Mos Eisley's PUG Shop!  :D
Thank you Salem!!
Thank you all very much!!  I hope more of my wishes can be granted!