Holiday Sets

Here are things that I made for holidays.  I originally released them near the holiday in question, and only had them available during that season.  But you should be able to download these whenever the fuck you want, right?  Right!  There are a mix of clothes and toys here, packaged together by season, mostly.  I am too lazy to make separate downloads for each thing.  But if you don't want everything that comes in the set, just extract the bits you want.  Simple enough, yes?
Please Note:  None of these files are copyrighted.  You may do whatever you wish with them.  Alter them in any way you see fit.  All I ask is that you give me credit for creation of the original file, and a link back to my site.  Cuz taking credit for someone else's work is just not cool.
Disclaimer:  By downloading and installing any of these files you will have breached Ubi Soft's warranty and will no longer be eligible for technical support from them.  You download at your own risk.  Although these files work fine in my game, I can make no guarantees about their performance in your game.  I cannot be held responsible for any game crashes, gremlin infestations, Scarran attacks, or any other odd things these files might cause.  If you have any problems with any of these files, please contact me and I will try my best to fix it, however I make no promises.
All these files are zipped.  So you will need some sort of unzipping program to exact them with.  Like WinZip.  Or if you want something totally free and open source, get 7-Zip.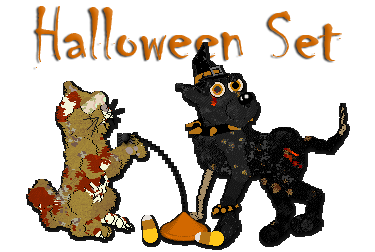 My favorite holiday, Halloween!  And here's a set of clothes and toys just for that spooky holiday.  Here we have another spiked collar and bracelet set, this one with orange spikes.  And here is a special witch hat made even more festive with a special black and grey wizard texture.  The texture is internal so you don't need anything extra.  Then we have a new cat dancer toy that is orange with a spider on the end, eek!  Lastly is a toy piece of candy corn for your petz to play with and chew on.
Halloween Set:  Petz 3 / Petz 4 / Petz 5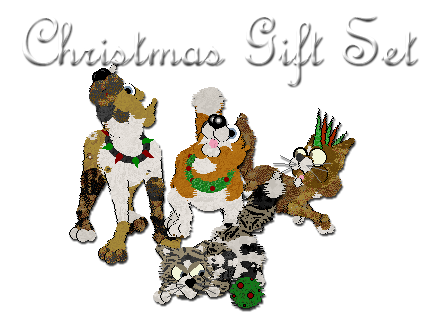 Merry Christmas!  Even if it's July.  Here are some treats I made for your petz just for the winter holidays, isn't that nice of me?  XD  First we have, of course, a festive spiked collar!  This time with red and green spikes, how lovely.  Then we have something a little different, a wreath collar.  It's full and fluffy with red berries to decorate it.  Then we have another Mohawk, with of course red and green.  Last, a Holly Ball.  What?  Yes, I made that up.  It's a bunch of green holly with red berries that rolls around for your petz to chase.  Okay so it's clearly just a recolored auto rolling ball, so sue me.  XD
Christmas Gift Set:  Petz 3 / Petz 4 / Petz 5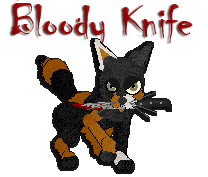 Give your petz a bloody knife to play with!  That's totally safe.  0.o  Yeah.  But for Halloween one year I made this as a toy, because I'm sick like that.  If you have a twisted sense of humor too, this is just the toy for you!  Enjoy!
Bloody Knife:  Petz 3 / Petz 4 / Petz 5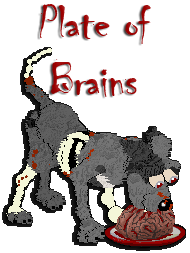 Say you've got some zombie petz, what do you feed them?  A plate of brains, of course!  Here is the best, most nutritious free range brains around, just for your undead petz to snack on.  Nine out of ten zombie petz agree, Black Mist brains are the tastiest.  The brain will gradually disappear as your pet eats it!  How gross is that?  It's perfect!
Plate of Brains:  Petz 3 / Petz 4 / Petz 5
Saving people, hunting things, the family business