Other Files for Petz

Here you will fine other miscellaneous files for Petz.  Random junk that is mostly useless, but that you might find mildly interesting.  There's not much right now, but there may be more here later.
Please Note:  None of these files are copyrighted.  You may do whatever you wish with them.  Alter them in any way you see fit.  All I ask is that you give me credit for creation of the original file, and a link back to my site.  Cuz taking credit for someone else's work is just not cool.
Disclaimer:  By downloading and installing any of these files you will have breached Ubi Soft's warranty and will no longer be eligible for technical support from them.  You download at your own risk.  Although these files work fine in my game, I can make no guarantees about their performance in your game.  I cannot be held responsible for any game crashes, gremlin infestations, Scarran attacks, or any other odd things these files might cause.  If you have any problems with any of these files, please contact me and I will try my best to fix it, however I make no promises.
All these files are zipped.  So you will need some sort of unzipping program to exact them with.  Like WinZip.  Or if you want something totally free and open source, get 7-Zip.

Just The Quotes
Ever get annoyed with those stupid little messages on the petz load screen?  They're so corny, except for the quotes.  I like quotes.  All those little messages are stored in a little text file.  All you have to do is uncheck the read only option under it's properties and you can edit it to make any messages you want appear in the load bar on the petz splash screen.  Just make sure the number at the top matches the number of messages in the file. The file is called petzsplash.txt and is in the Resource directory.
If you like, you can download this file I made of just the quotes from the splash screen.  I also added in a few other dog and cat related quotes. However I have an odd sense of humor and some of them are some pretty obscure references.  But you can take them out if you like.  I suggest saving a backup of the original petzsplash.txt before you install this one.
This file will work in Petz 3, 4, and 5.
Just The Quotes Splash Messages

Clothes Offset Numbers
When I started hexing clothes I made a list of all the official clothes offset numbers so I could make sure mine would show up separately.  And man it's a long list!  So I thought I'd put my list up here so maybe someone else wouldn't have to spend all that time looking up all those bloody numbers.
So, just cuz I love you soooo much, here's a ridiculously long list of every single friggin' clothes file!
Bloody Long Clothes Offset List

Skin Textures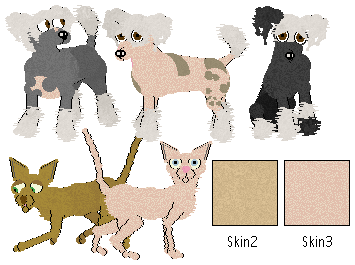 Hairless petz are cool.  But one thing has always kinda bugged me about them. If you get one with pigmented skin, they usually just use a regular fur file, so it looks like they have fur.  And if you get one that has peach-tone skin, it's usually textureless.  So, I made these skin fur files! (Heh, that sounds odd doesn't it?) The peach one isn't fantastic, but it's the best I could do with the colors I had to work with.  Feel free to use these textures on any breed you want!  Use skin2 as a transparent one for petz with pigmented skin, and skin3 as an opaque one for pale skinned petz.
Both files are PKC accepted for all hairless breeds.

Stripe Textures

Two stripe textures.  One black and gray, another one, thinner and black and white.  Really boring and plain.  But I made 'em so I figured I'd stick them up here.  Perhaps someone might find a creative use for them in a hexie.  Feel free to use these however you want!

Wizard Textures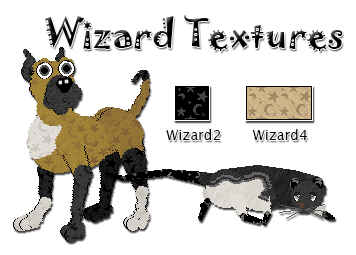 I love the wizard texture, it's fun to use in hexies.  But I wanted some slightly different looks for different things.  I made a black and grey version for my Wizarding Rats and my Star Witch Hat.  And more recently I made a version that has fur texture in the background so it doesn't look so flat.
Feel free to use these fur files how ever you like.  Hex to your hearts content!  They are simple, but the one with fur texture, Wizard4, took me longer than expected to do.  I would appreciate a small mention of credit if you use these.
Wizard2 is meant to be used opaque and Wizard4 is meant to be used transparent.  But play around and use these how ever you want!  :)

Coordinates Reference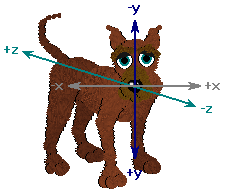 I can never remember the directions for the x, y, z coordinates when hexing.  So I made this simple image to help me.  I've seen other such images on tutorial pages, but this one works best for me cuz it's all on one image, so I can see everything with one quick glace.  I thought I'd stick it up here in case anyone else might find it helpful.
Feel free to save this image and do whatever you want with it to help you remember the coords when hexing.  My dane Goliath kindly volunteered to be the model for this image.  ;)

Spider Case Skin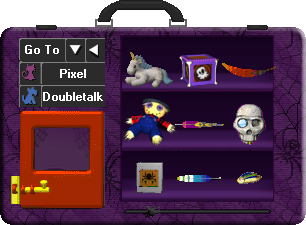 Here is a spider themed case skin for your carry case in Petz 5.  Since the case is skinable in P5 I decided to make a skin for it.  It's the only cool feature in Petz 5, in my opinion. And of course it's purple and creepy, with spiders and stripes all over it.  If that's your thing, or you just want a change of pace for Halloween, download this case skin!
Sorry, this is for Petz 5 only, since the skinable carry case feature is only in Petz 5.  In order to edit the case in P3/4 you need to edit code in the game exe itself, and I don't know how to do that.  If you want to try to learn how to do that, there is some information about it on Carolyn's Site. But remember to always keep a backup of your game before you go poking around in it!

Petz Image Helper
Got a lot of pictures of your petz?  Want to quickly make the background transparent and make it compatible to post online?  Then you are in luck!  My wonderful boyfriend made a program that can quickly make any number of images have transparent backgrounds and be .png format.  This works with .bmp, .gif, and .png images.  All you have to do after you download this program is to drag images or a folder containing images to the .exe, and then it will make all the .bmp, .gif, and .png images it finds to .png images with a transparent background.  You will still have to fill in dog eyes manually, there is no way around that.  But it is still a great time saver for making Petz images.
This was completely made by my boyfriend, Kashi, I had nothing to do with it.  Standard usage terms apply, you may distribute as you wish, and modify in any way you want to, just give credit to Kashi for the creation of the original program.
Click the link below and click on "petz_ih-X.zip" to get the most updated version of the program.

Petz Show Records Spreadsheet

This is a spreadsheet made to help you organize and keep track of your petz show points.  I made it for myself and thought that other people might find it useful too, so I'm putting it up for download.  Since each placement in a show awards different amounts of points, there is a column in this sheet that automatically calculates how many points your pet has when you enter how many of each placement your pet has gotten.  This way you can very easily keep track of how many points each pet has.  It also has a column that will automatically show the title your pet has earned once the needed amount of points has been gotten. It also has a sheet that lists all the placements and how many points they award, and all the titles and how many points your pet needs to get that title, so you can easily remember these things.  It also has a place to put the URL of your petz show picture so you can easily paste it into the shows you want to enter.
It is made to work in Open Office, which is a free and open source program for text documents, spreadsheets, databases, etc.  Much like Microsoft Office, except you don't have to pay for it.  If you want to make this file work in a different program, go right ahead.
It has sheets for all the different show types popular right now.  You can always add more sheets if you need them, if more show types come out, or if I missed some.  Feel free to do whatever you want with this spreadsheet to work best for you.

Yeah, that's all there is for now.  There may be more here eventually.
I liek teh kitties.