Dogz Litters

Puppies for everyone!  Don't you need more puppies?  Yes you do.  Just go to the Rules and Adoption Form once you realize you must have that puppy.
Most petz were bred in Petz 5, but I will use PetFlux to convert the pet if you use Petz 3/4, so it no longer matters which version of the game you use!
I never tree trim my petz, but occasionally I do adopt trimmed petz.  If there is any trimming in their ancestry, it will be noted.
[f] means female, [m] male.  Bold means available, strikethrough means adopted.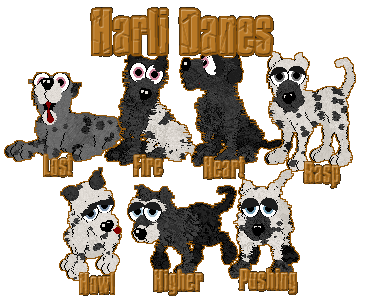 Lost [f] | Fire [m] | Heart [f] | Rasp [f]
Howl [f] | Higher [f] | Pushing [f]
Harli Danes
Great Dane Mixes
61st Gen.  Inbred.  Trimmed.  443 KB
Bred in Petz 4
Adult Pic
Hot Harlis and general sexy dane-ness!  Bred by Angela.  Fire and Rasp are my favorites I think, but they are all hot.  Higher and Heart have hidden spots.  Higher has hidden boots, and Heart has hidden sheepie markings.  Poor Fire is the only boy, with six sisters!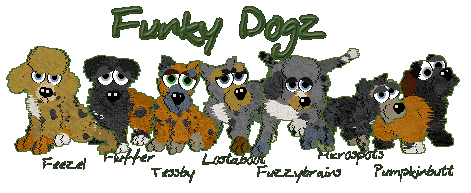 Feezel [f] | Fluffer [f] | Tessby [f] | Lostaboot [m]
Fuzzybrains [f] | Microspots [f] | Pumpkinbutt [m]
Funky Dogz
Mixed Dogz
122nd Gen.  Inbred.  Trimmed.  687 KB
Bred in Petz 4
Adult Pic
Weird dog mixies from Angela, because I suggested she breed some, and she bred some good ones!  The weird names are my fault though.  Microspots is my favorite, I'm kinda tempted to steal him.  I really like Feezel too.  And ya gotta love Fuzzybrains just for being so weird.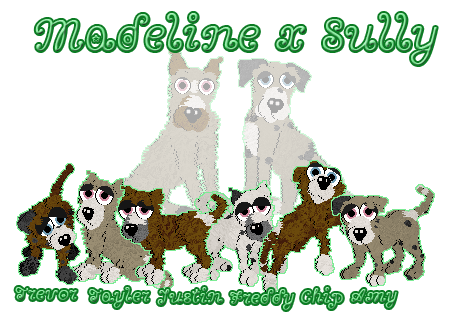 ?'s Madeline x Cargo's Sully
Great Dane Mixes
38th Gen.  No Hexed Lineage.  Inbred.  Trimmed (buggy ver.).  1,224 - 1,229 KB
Adult Pic
Trevor [m] | Tayler [m] | Justin [m] | Freddy [m] | Chip [m] | Amy [f]
Some really hot puppers from two of my favorite dogz.  I am really this close to keeping Chip!  Never mind, I kept him.  Sorry I couldn't help it!  He's just too hot.  I kept the only trotter in this litter, I'm so bad.  XD  But the rest of his siblings are really hot too, so you better grab them.  Freddy has some hidden mutt patches.  They all have black eyelids and hot eye colors.  Trevor is my second favorite, I'm tempted to steal him too.  Amy is the only girl, with all those brothers!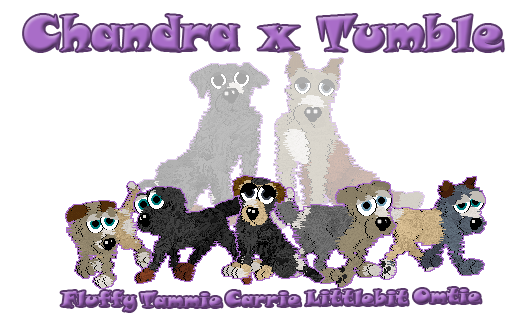 ?'s Dance All Night x Witz's Head Over Heels
Great Dane Mixes
40th Gen.  No Hexed Lineage.  Inbred.  Trimmed.  90-93 KB
Adult Pic
Fluffy [m] | Tammie [f] | Carrie [f] | Littlebit [m] | Omtie [m] |
A bunch of awesome puppers from two of my favorite doggies.  Snatch them up!  I think they are all hot.  Littlebit would be mine in a heartbeat if he didn't have a big sheepdog belly.  But he's still really cool anyway.  Tammie is a lot like her mother, except she has her father's poof tail, which makes her very awesome!  Carrie has very dark but not completely black eyes, I like that.  And guess what?  The ALL trot!  Yes, just like their parents, every single puppy in this litter is a trotter.  The only down side is that all of them except Carrie have non matching white eyelids, yuck.  But as always, please feel free to hex them to matching colors if you want!

Found the Puppy you just have to have?
Go to the Adoption Form
bzzzzzzt!