Critter Litters

Looking for something a little different?  Want a rat, or some other kind of pet that's not a cat or dog?  Or are you looking for fantasy creatures and crazy hybrids?  Or any kind of unusual creature?  Then here's where you'll find them!  Litters of all kinds of petz can be found here.  You need some variety in your game.  So go to the Rules and Adoption Form and apply for that crazy critter that is calling your name!
Most petz were bred in Petz 5, but I will use PetFlux to convert the pet if you use Petz 3/4, so it no longer matters which version of the game you use!
I never tree trim my petz, but occasionally I do adopt trimmed petz.  If there is any trimming in their ancestry, it will be noted.
[f] means female, [m] male.  Bold means available, strikethrough means adopted.

Fantasy Dog Hybrids
Rhythm | Hazzah | Luma | Griff | Mixin | Elli | Dejer
Zich | Chup | Izzic | Kendo | Mezza | Naeht
Ohwe | Sahm | Okka | Riaff | Jeffregald | Traylie

Sylvan Shepherd, Cape Hunting Dog, Achihond, and Anubite Hybrids
Sylvan Shepherd and Achihond from Vickie's Petz Zoo
Anubite from Supernova (closed)
Cape Hunting Dog from Corvus Corax (hosted by Faewolf's Petz Archive)
Breed files required
2-4 Gen.  None Inbred.  70-102 KB
Shown as adults.
Some leftovers from a breeding project that I thought were too cute to delete.  So I'm adopting them out.  As with all my hybrid project adoptions, all details for each pet is on the image under each pet's picture.  Supernova is gone, (as far as I know).  But don't worry, if you need that breed just let me know in your application, and I will send it along with the pet.
Mixin is my favorite, he is so little and cute!  Both Zich and Chup have little dragonfly friends from their Sylvan Shepherd heritage, which is very cool.  Rhythm has a skinny belly like an Achihond, and two sets of ears, but otherwise looks just like an unusually colored Anubite.  Jeffregald looks funny, he has no ears!  But I bet with some pet file hexing he'd look really awesome, if you wanna do that.

Angela and Meer Hybrids
Vinetail | Ugly | Toadie | Stretchme | Something | Wave | Rollme
Raw | Regret | Rabbie | Pizza | Oblivios | Muzzltof | Mozey
Maddening | Lies | Longest | Bashy | Killi | Kidneyeater | Drive
Fraidy | Spikybones | Frazzi | Darkel | Cooler | Clop | Catsup
Canser | Flufferbird | Fletter | Talulah | Beezle | Acent | Answer | Vomit
Achichat, Beacon Cat, Bengal Cat, Bobcat VPZ, Egyptian Mau, KittyBonez, Pseudodragon, Ravenz, SWoT, VPZ Pygmy Hedgehog, VPZ Rat from Vickie's Petz Zoo
PFMice, Spiderz from Carolyn's Creations
Breed files required
2-13 Gen.  Some Inbred.
Bred in Petz 4
Shown as adults.
Uh, no Angela and me didn't hybridize ourselves.  0_o  What we did was breed a bunch of hybrids, then breed our hybrids from each other together.  And so here's the big mass of hybrids we came up with.  Some of them were bred by Angela, some by me, and some are a mix of both our breeding.
If you want to know which breeds each spesific pet needs, you'll have to look HERE.  Because there are way too many and I am too damn tired to write them all on the image like I normally do.  :P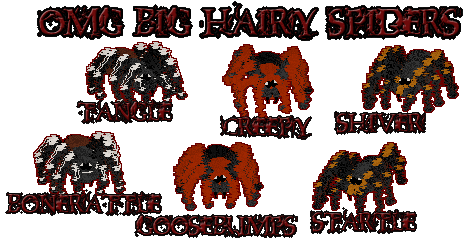 Tangle [f] | Creepy [m] | Shiver [m]
Bonerattle [m] | Goosebumps [f] | Startle [f]
OMG Big Hairy Spiders!
Spiders (calico overwrite)
1st Gen.  Hexed. 60 KB
Adult Pic
OMG!!!  Big Hairy Spiders!!!!!111one  O.O  These creepy things are based on Carolyn's lovely Spiderz file.  She kindly let me make them overwriting, and I modifed them to look like tarantulas, the most pwnsome spiders out there.
Tangle and Bonerattle are designed after Acanthoscurria geniculata (Giant White Knee).  Creepy and Goosebumps are supposed to resemble Brachypelma boehmei (Mexican Fire Leg).  And Shiver and Startle are the famous Brachypelma smithi (Mexican Redknee).
They really look better as adults, so make sure you look at the adult pic and see how big they get!


Webbie [m] | Graven [m] | Treater [f] | Change [f] | Tricken [m] | Dart [f]
Halloween Spidermice
Spiderz/PF Mice Hybrids
Breed files from Carolyn's Creations required
2nd-5th Gen.  Bred w/ Hexed files.  Some Inbred.  43-45 KB
Shown as adults.
A special litter of my special hybrid spidermice for Halloween!  These guys were sort of inspired by the Neopets Plushie Spyder.  I hexed both the Spiderz and PF Mice files, then bred them to produce these unique spidermice.  They require two custom furfiles, which I will send along with the pet.

Creepy Hybrids
Kinnibug | Lerkbeast | Riktwing | Clopclop | Leakybones
Oere | Fasterbones | Grincrack | Illican | Borwik
Blooboo | Doozle | Blosol | Famfysh | Desher | Feateo
Kaner | Nightak | Riknaw | Rattlewind | Enor | Smallershost

Vereortiel from Butterfly Fieldz
Diwe, Anubite from Supernova
PuppyBonez, Barghest, Feral Pig, Badger from Vickie's Petz Zoo
FMA Chimera from Here
Breed files required
2nd-7th Gen.  Some Inbred.  43-69 KB
Bred in Petz 4


Sort of Halloween-ish themed hybrids for ya!  Cuz they're all creepy and evil looking.  The product of another one of my hybrid breeding binges.  You know the drill, details on the pic.  I quite like the variety of these.  If you need breed files from a site that is closed, just let me know in the app and I will send the breeds along with the pet!  :)




Lepitaurs (large)
Jetsu | Ohka | | Tell | Under
Sleep | Evler | Hands | Change
Dissin | Motthoop | Likeyu | Farko
Wallfal | Downer | Sorrar | Tyersom

Purebred Lepitaurs, breed file from Vickie's Petz Zoo required.

So I went on a Lepitaur breeding spree.  And here are the cool ones I decided not to keep.  This works like the hybrid clean out litters below.  All the details are listed with their picture.




Lepitaurs (small & medium)
Swinnin | Cantee | Center | Maylay
Valak | Leaving | Sayfar
Foxtail | Chanless

Purebred Lepitaurs, breed file from Vickie's Petz Zoo required.

More Lepitaurs.  I divided them into two groups by size.  These are the smaller ones, obviously.  Yeah there's a couple 1st gens thrown in.  Cuz the variation is nearly endless in the Lepitaur file, they're neat and unique even though they're only 1st gen.




Found the critter you just have to have?
Go to the Adoption Form
Inu Yasha, sit boy!