Black Mist Crittery
Welcome to Black Mist Crittery, a crazy little Petz site.  Here you will find a discordant mix of realistic type petz, classic "petzie" petz, and strange fantasy creatures.  From crazy hexies to old school mixies, we've got it all!  We specialize in a few different breeds, and in just being generally weird.  The breeds we specialize in are:  in the cattery, Birmans, Maine Coons, Turkish Angoras, Egyptian Maus, and Alley Catz\Alley mixes;  in the kennel, Doberman Pinschers, Great Danes, Papillons, Chihuahuas, and Chinese Cresteds;  in the stable, Arabians, and also Rats, Sugar Gliders, Koi, and Bettas.  But we also have quite a few other petz, lots of fantasy creatures, and many other funky critters wondering about.  That's why we call Black Mist a "Crittery."  It's a silly little word we made up cuz it's cute and it's easier than saying "Black Mist Kennel, Cattery, Rattery, Glidery, Stable, and other random creatures" o.O
The question is, why do we speak in third person plural when there's only one of us?  Because we're insane, duh!
We've got a variety of litters (Now for any game version!), some stuff to download, and lots of insanity.  So secure your strait jacket, sit back, and enjoy the ride!

Guess who's back!  Back again!  Black Mist's back!  Tell a friend!  No I didn't just quote Eminem.  >.>  Uh, but anyway, that's right.  After over ten years Black Mist Crittery is alive again, back from the dead!  What can I say?  I can't stay away from Petz.  I am hoping that BMC will stay around for the long haul this time.  Updates might not happen as frequently as they did back in the day, we'll see how that goes.  But even if there aren't updates all the time, this place isn't going anywhere.  It will remain a crew, downloads, and hex log site indefinitely.  But that doesn't mean that Black Mist will be inactive!  I intend to have litters and other interactive features for as long as the PC is still hanging in there!
About the layout.  I wanted something simple but nice to look at, so I went back to my Petz roots and went with a greyscale color palette.  And I threw in some grunge cuz I can't be without that, this is Meer you're talking to remember.  I call this layout "nostalgia" because Petz now evokes that feeling in me, and I bet I'm not alone in that.  ;)
The petz you see featured in this layout are, starting at the top, from the left:  Scraps (from Leelo @ Smoochies), Sorcery (from me), Pizza (from Vixen), Floofy Fox (from me), Bottom:  Warning (from Rat), Pitch (from Paintedpetz).
In case you don't remember or are new here, this site is laid out a little different than most Petz sites.  There isn't a section called crew or litters, things are divided by species, as you can see in the links to the left.  If you aren't sure where a link goes, hover over it for a description.  If you get lost hopefully this handy site map can help.
Important note 11/20/2020:  You may have noticed my absence from the PC for a while.  This is not because of lack of interest in Petz, I still love the game and the community around it!  But I'm going through some shit right now that has made it very hard for me to do fun stuff.  But this does not mean that Black Mist is going away!  My site will remain open in the hopes that I can get through this and come back to Petz hopefully in not too long.   But I don't know how long it will take, and in this time there will likely be no updates and adoptions will not be sent out.  My sincere apologies for this.   My hope though is that this will not take too long and that afterwards I will come back to the PC in full force and Black Mist Crittery will be a full service Petz site again!  Until then you can still enjoy browsing my crew pages and reading all my rambles and downloading all the things I have up.   These things are not going anywhere!
Remaining hopeful,
Meer
**If you've been here before, refresh pages to make sure you see updates!**

Updates And Such
Updates November 29, 2021

Newest Addition

  +   Updated my Mutating Spots Alley Cat file to be Mostly Flealess.  This is explained in detail on the Breeds page, so go check it out!

  +   I have many more updates planned, but I don't know when I will get to do them.  Hopefully sooner rather than later, but I don't know.

Updates November 12, 2021

  +   Some new petz added to my crew!  See if you can find them!

  +   Adoptions sent out!  Hopefully some fresh adoptions may be put up soon.

  +   New stamps added to my stamp collection page.

  +   Updated my Wish List.  Two wishes have actually come true!

Updates October 24, 2021

  +   I got adoptions sent out!  Sorry they are all so late!  But they are all up to date now.  Please adopt more!  ;)

  +   Two new members to the Hybirdize! Clique!

Updates October 18, 2021

  +   A new program in the misc files to download!  This will help you quickly make Petz pictures transparent!  Made by my boyfriend!

  +   There is a new page!  My Stamp collection!  You can see all the stamps I have collected so far.

  +   Adoptions will be worked on next.   Sorry it is taking so long.

Updates September 6, 2021

  +   Black Mist is back again!  Sorry for our absents, it was a mistake that caused me to have to change my domain suffix.  So remember, now our home is blackmist.shadowstruck.wtf. That's WTF not NET anymore! Although if you're here you've probably figured that out already. But remember to change your links and bookmarks!

  +   As a thank you for waiting through our absence and coming back to us, there is a new thing to download!  Check it out in the Take -> Clothes section and enjoy!

  +   Added some new Pride Clique icons to my Box o' Junk, thanks to Wrenn @ Chimes for making these!

  +   That's about it for now, I'm still not 100% myself yet, so things will still be slow for a bit, please bare with me!

Updates November 20, 2020

  +   I fixed the tag board!  Now you can leave quick messages here again.  I love reading those messages, so please feel free to say whatever you'd like! :)

  +   Sorry there haven't been updates for a while, you can read why in the note above.  I really hope I can come back soon.

  +   Old updates can be found here.

Apparition
From Alena @ Moonflower

Quote of the Unspecified Time Period

"I do not wish to evade the world
Yet I will forever build my own."
-- Nightwish


My Twisted Sisters and Wicked Brothers
Are any of you guys still around?  Hit me up if you are!  For now this will just be in memorial.



Krista @ 360°


Chi @ Droolworthy


Jaser @ Mouse


Rat @ Stray Cat Strut


Kitty @ Devilish


Angela @ Toe Socks


Spike @ Asphodel

Box o' Junk









Mah Fanlisting!
MMMMM Tasty Brains!

Tag Board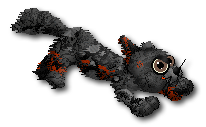 Established January 1, 2005.
All content of this site, except where noted, is copyright © 2005-2021 Meeronver Darkhoof.  All rights reserved.
Petz is © Ubi Soft, Inc.  This site is in no way affiliated with Ubi Soft.  This is a fan site.